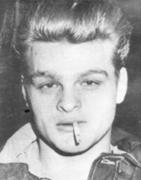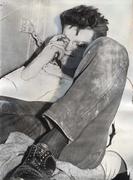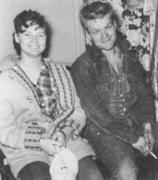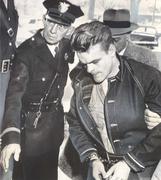 96MHCEHSGNFJ


Above is a collection of photos of Charles Raymond Starkweather, his gravestone, and in the one picture with him is 14 year old girlfriend Carol Ann Fugate.


Charles Starkweather murdered eleven people in a two month period of time most of it while running and hiding with his fourteen year old girlfriend Carol Ann Fugate. The couple were captured on January 29th, 1958. Starkweather was executed seventeen months later and Carol Ann Fugate served seventeen years in prison. It has been debated for years as to how much involvement Carol Ann Fugate was involved in the murders.


In 1956 eighteen year old Charles Starkweather was introduced to then thirteen year old Carol Ann Fugate. Starkweather went on to drop out of Lincoln High School and he became employed at the Western Union Newspaper Warehouse which was close to Lincoln High where Carol Ann Fugate was going. The boss of Starkweather said he was the dumbest man he ever knew.


Starkweather though taught Fugate how to drive and one day Fugate crashed his 1949 Ford into another car. Starkweather's father who was the legal owner of the car and he had to for the damages. This caused friction with Charles and his father and this caused Starkweather's father to throw him out of the house. This may have been one of the major reasons for what caused Starkweather to start his murderous crime spree.


Starkweather quit his warehouse job and worked for a time as a garbage collector. It was on the garbage route that he began to plan bank robberies though he never committed one. On the night of November 30th 1957 Starkweather committed his first murder. It was of a gas station attendant at a Lincoln Gas Station supposedly because the gas station attendant named Robert Colvert. He kidnapped the man from the gas station and took him out on a lonely country road where he killed him. It was not known until after the other murders that Starkweather was the one who killed Colvert. The Starkweather case was one of the most publized spree killings in U.S. history.


Starkweather at least with some help from his 14 year old girlfriend Carol Ann Fugate went on to kill a total of eleven people before he and Carol were captured by police. The people who were killed are.



1. Robert Colvert (21), gas station attendant


2. Marion Bartlett (57), Fugate's stepfather


3. Velda Bartlett (36), Fugate's mother


4. Betty Jean Bartlett (2), Velda and Marion Bartlett's daughter


5. August Meyer (70), Starkweather's family friend


6. Robert Jensen (17), Carol King's boyfriend


7. Carol King (16), Robert Jensen's girlfriend


8. C. Lauer Ward (47), wealthy industrialist


9. Clara Ward (46), C. Lauer Ward's wife


10. Lillian Fencl (51), Clara Ward's maid


11. Merle Collison (37), traveling salesman


Charles Starkweather and Carol Ann Fugate were both arrested on January 29th, 1958. Their was a trial and Charles Raymond Starkweather was sentenced to death. Carol Ann Fugate was sentenced to life but her sentence was commuted and she was paroled in June of 1976 after serving seventeen years in prison.


Starkweather was executed in the Nebraska State Penitentiary at 12.01 A.M. on June 25th , 1959. Starkweather is buried in Lincoln Nebraska at the Wyuka Cemetery and some of his victims buried there also. Starkweather was the first American Spree Killer. At first he told that he had forced Fugate to come along with him as a hostage but he later changed his story and said that Fugate not only participated but that she enjoyed it. The real truth will probably never be known. Fugate moved to Michigan and married in 2007. She refuses to talk about the crimes or her time with Charles Starkweather.